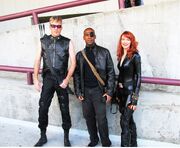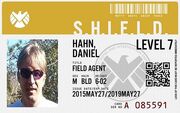 Dhahn24
Affiliation
ODA, loner, S.H.I.E.L.D.
Base Of Operations
Gulf of Mexico
Characteristics
Occupation
Adventurer, public servant, soldier, bodyguard, professor, paramedic
Education
MA, MBA, ABD (All But Dissertation for PhD)
Place of Birth
Thurso Scotland
History
classified

Powers and Abilities
Powers
None
Abilities
Started a military career as a Military Policman and bodyguard then transferred to Special Forces where he trained as a medic and crosstrained in communications, weapons, and demolitions. He is on par with most of the Howling Commandos.
Martial Combat: He is well-versed in the arts of warfare and hand-to-hand combat. His styles of choice being Wing Chun[1], the Marine Corps LINE combat system [2] (instructor qualified) which was at one time tought to Special Forces soldiers at Fort Bragg, Pressure Point Control Techniques (PPCT) and freestyle fighting.
Urban Warfare specialist: He spent time on a Close Quarters Combat (CQB) team and has been to level 2 sniper training as well as Special Forces Advanced Urban Combat (SFAUC) courses. Can use many small to medium arms to include Mark 19 grenade launcher, and anti-tank weapons like LAWs and AT-4's. Can also drive M-1 and T-55 (soviet) tanks.
Combat Medic: A special forces medic to include instructing at the Special Operations Medical Training Center. Maintains paramedic status.
Unconventional Warfare expert: To include instructing Unconventional Warfare at Fort Bragg (Camp MacKall) NC. He is also paratrooper, well versed in High Altitude Low Opening (HALO) insertion techniques. Graduate of French Commando School.
Advanced Military Operator: Well-versed in intelligence gathering, survival tactics, swimming, march or drill skills, map reading, used in armed forces.
Expert Driver:A graduate of the Mercedes Benz Anti-Terrorism Evasive Driving course, and several other driving courses taken as an MP and an SF soldier.
Accomplished Instructor and Academic:Has taught medical skills, unconventional warfare skills, survival and map reading, college level classes on emergency planning and Chemical, Biological, Radiological, Nuclear and Explosive (CBRNE) subjects, as well as terrorism. Teaches at 4 different institutes of higher learning.
Expert Tactician and Planner: Has written comprehensive emergency plans for many contingencies, to include combat operations.
Strength level
Currently, Agent 24 has the strength of a normal human male of his age, height, and build who engages in regular exercise.
Weaknesses
Over confident
POWER GRID
Intelligence 3
Strength 2
Speed 2
Durability 2
Energy Projection 1
Fighting Skills 4

Paraphernalia
Equipment
assorted
Transportation
Battlewagon
Weapons
2 hands, 2 feet, a mind, and an assortment of other weapons on hand

Notes
Lo, there do I see my Father.. Lo, there do I see my Mother And my Sisters and my Brothers.. Lo, there do I see the line Of my people back to the beginning.. They do bid me to take my place among them.. In the Halls of Valhalla, Where the Brave may live forever.
See Also
Links and References
Community content is available under
CC-BY-SA
unless otherwise noted.