TRENDING ARTICLES
THE COMMUNITY IS SAYING
I believe that Spider-Man's deal with Mephisto from One More Day is starting to crumble. Ever since Ghost Rider usurped Mephisto from his throne during the Damnation event, the deal is now gradually falling apart. That would explain a whole lot of t…
The Comics Story
Marvel Comics began life as "Timely Publications" in 1939, with comic books featuring Captain America, Namor the Sub-Mariner and the original Human Torch. Legendary comics writer Stan Lee was hired as an office assistant in 1939. Within two years, the 19-year-old Lee was promoted to editor of the Marvel Comics line, a post that he would keep until 1972.
Everything changed in 1961, when Lee and artist Jack Kirby created The Fantastic Four -- a new style of superhero comic that focused on the characters' internal drama as well as their heroic adventures. The style was a huge success, and the Lee/Kirby team went on to create the Incredible Hulk, Iron Man, the Mighty Thor, the X-Men and the Avengers. The prolific Lee worked with artist Steve Ditko to create one of Marvel's greatest success stories, Spider-Man. Stan Lee's Marvel revolution extended beyond the characters and storylines to the way in which comic books engaged the readership and built a sense of community between fans and creators.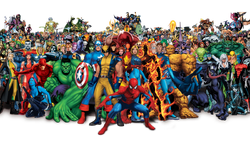 Today, Marvel has broken the barrier of comics, attracting new fans thanks to their notorious presence in animated series, video games and movies, of which Marvel's heroes are blockbuster stars, with Spider-Man, Iron Man, Thor, the X-Men and the Avengers becoming regular features of the summer movie season.

POLL
STATISTICS
Created: March, 2005
Content:

One of the largest wikis
262,593 articles

70,824 characters
53,608 comics

255,400 files uploaded
1,273,128 total pages
5,888,074 all-time edits

Activity:

413 active editors
100,000+ readers daily
3,000,000+ visits per month
14,000,000+ page views per month
Community content is available under
CC-BY-SA
unless otherwise noted.