Hello,
My name is Jamie Hari and in case you didn't know I am the Founder and Editor-in-Chief of the Marvel Database Project (aka MDP) and DC Database Project (aka DCDP).
Please don't hesitate to drop me an email and say hello. All suggestions regarding how we can make the Database better are always welcome! I encourage you to check out our forums to see what is new!
See you around,
Jamie Hari
Editor-in-Chief
Marvel & DC Database Projects

---
About Me
JAMIE HARI

Real Name: Jamie L Hari
Nicknames: No known nicknames
Former Aliases: No known former aliases

Status
Occupation: Product Specialist
Legal Status: Dual Canadian/Spanish citizen with some outstanding parking tickets.
Identity: Publicly known to be the webmaster of this site.
Marital Status: Committed
Group Affiliation: Leading software company which shall remain nameless.
Base of Operations: Ontario, Canada

Origin
Place of Birth: Brantford, Ontario
Known Relatives: Mom, Dad, Step-Mom, Half-Sister, Half-Brother, Girlfriend
First Appearance: November 22nd, 1982
Origin: Origin unknown.

History
Born and raised in Brantford, Ontario until the age of 19, when he moved out on his own to pursue a career in Kitchener. He then lived in Toronto for some time. Then, with some college and university under his belt, he obtained a position working for a large multi-national insurance company in the Technology department providing 1st and 2nd level support for their salesforce.

Jamie is currently pursuing his Bachelor's Degree in computer science from the University of Waterloo. To pay the bills, he works for an ECM software company , working very closely with content management systems not unlike MediaWiki.

Characteristics
Height: 5'10"
Weight: 175 lbs (80 kg)
Eyes: Blue
Hair: Blond
Unusual Features: No unusual features (My mom says I am handsome...)

Powers
Strength Level: Jamie possesses the strength of a man his height and weight who engages in little regular excercise.


Known Powers: No known powers.
Known Abilities: Some programming skill with C#, Java, Javascript, HTML, PHP and MySQL. Has experience administrating Windows, Solaris and Linux servers. As well, familiar with MS Exchange, MS SQL, IIS, Oracle, Apache, Tomcat application servers. Fluent in 3 languages (English, French and Spanish), some small skill with others (Portuguese, German, Russian, Chinese (Mandarin))

Miscellaneous
Equipment: 4 computers, 2 guitars, 1 piano, 1 keyboard, 2 turntables and a microphone.
Transportation: 2007 Saturn Ion.
Weapons: No known weapons.

Notes
Related Articles
To Do List
High Priority
Low Priority
Finished But Not Out of Scope
Sub-Pages
MediaWiki Links
External Links
Donations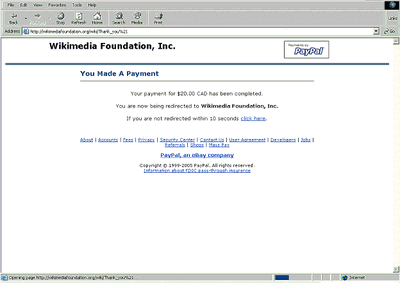 Community content is available under
CC-BY-SA
unless otherwise noted.