Hey everyone, my name is RangerPhetty and I like men chicken.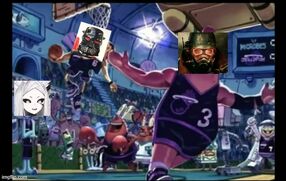 I like basketball IRL, so there's that. in fact, here's a badly photoshopped picture of me, DEV official, and Baron Karza Ballin.
My pals, compatriots, and partners
I got plenty of people on here that I like, and a few even like me back! To list a few people that I find chill:
Spideeey
Dare00devil
Whateveridkreally
DEV Official
Baron Karza and the Emperor of the Microverse
LardWad420
Swatteam123
Inactive users I miss
Ginger Kenobi
Thebeast
Otto Octavius
?EnygmalsTheRiddler?