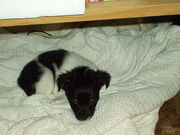 Welcome to the Marvel Database Project, Robert Alvarez!
You can jump in and start editing right away or practice in our sandbox. You should also have a peek at our policies and guidelines and naming conventions.
You can have your own user page; it is all about you!
The two easiest ways to interact with other users are to join the forums or leave messages on users' talk pages. Remember to sign all of your posts, so we can quickly tell who left the message.
(Hint: Use four tildes (~~~~). This will automatically produce your username and date. You can also use the 'signature' button in the edit toolbar.)
Your page can contain:


Be sure to visit our sister-site, the DC Database Project, so you can begin posting there as well!
No need to re-register, just sign in! Your account works on all Wikia wikis!

Have Fun!


---
Popular Links: Database | Forums | News | Search Articles | Search Images | Help | Upload Files
---
My favorite pages
Sites I Currently contribute to
Sites I visit
---
= Sites I created = Sites I admin on = Sites I contribute to = Just visiting

---

Harvey Comics

CrossGen Comics

Zenescope Comics

Comic Book Creators

American Football

Card & Game Database

Charming Tails

TV Shows

Are You Being Served?

Dynamite Comics

Disney Comics

Carlsbad Caverns

Malibu Comics

Valiant Comics

AC Comics

Titanic Database

View-Master

DC Comics

Image Comics

Dark Horse Comics

Marvel Comics

Universal Movies

Uncle Cliff's

Archie Comics

Piers Anthony

Beverly Hillbillies

Pro Wrestling

John Carter

American Horror Story

Charmed Comics

Encyclopedia Barsoom

Horror Films

Are You Being Served?

football

Marvel Movies

Addams Family

Munsters

Andy Griffith

Titanic

Familypedia






Community content is available under
CC-BY-SA
unless otherwise noted.