Shifter89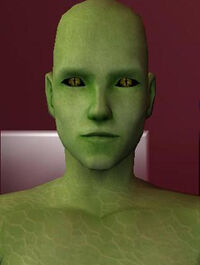 Characteristics
Unusual Features
In his true form he has black scleras with yellow irises and green reptilian skin.
Origin
Powers and Abilities
Powers
Unlimited Shapeshifting: - He is able to assume any form, size, mass and appearance at will.

Flexible Bone Structure: He can perform contortionist feats without causing any damage to his body.

Precognition: - Able to perceive information about future places or events before they happen.

Visions: - Mostly he is having flashes about events that are going to occur in seconds to minutes.
Dreams: - Not every dream is precognitive but those that are, are always clear and full of details.

Immortality: Possesses the ability to come back to life from any imaginable death that he suffers.

Regenerative Healing: He is capable of recovering from injuries with superhuman rate and efficiency.
Slowed Aging: An aspect of his immortality that has greatly slowed the degenerative effects of his aging process.

Abilities

Lie detection: He is able to successfully detect when others are lying.
Indomitable Will: He is able to suppress all forms of temptation including physical, mental, and sexual.
Expert Marksman: A very accurate marksman skilled in sharpshooting and weapon throwing.
Master Martial Artist: Has extensive training in martial arts and unarmed combat.
Weapons Master: He is a master of many different weapons, including: various swords, knives, firearms and crossbows.

Strength level

Peak Human Strength: Able to lift up to 800 lbs

Weaknesses

Emotional Influence: Max's ability of unlimited shapeshifting is highly affected by his emotions - if he is feeling strong negative emotions he may start to assume forms of random objects (previously seen), but on the other hand if in a very good mood, he is able to assume the forms of several objects.
See Also
Community content is available under
CC-BY-SA
unless otherwise noted.