https://marvel.fandom.com/f/p/4400000000000733487/r/4400000000006654225
History
Coming soon.
Powers and Abilities
Powers
Enhanced Senses
Visual Scanners/Genetic Detection
Robot Physiology
Enhanced Strength
Enhanced Speed
Limitless Stamina
Electrokinesis
Electric Absorption and Redirection
Brainwave Duplication

Telepathy
Skill/Knowledge Mimicry
Binary Code Form
Invisibility
Intangibility
Shape-Shifting/Camouflage
Psychic Disruption
Technopathy
Corruption
Digital Form

Teleportation
Digital Astral Planing

Abilities
Enhanced intellect
Strength level
3 tons
Weaknesses
N0A8 requires energy through absorption of electricity, food, or solar energy to maintain power. The unit can also be shut down by sudden, loud, or high-pitched noises.
Paraphernalia
Transportation
Digital teleportation
Weapons
Himself.
Quotes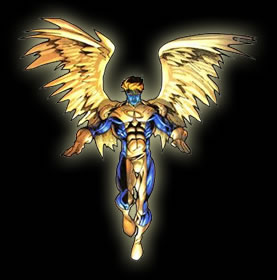 My Exiles
I have been a huge fan of the Exiles since my early childhood. Alternate versions of characters healing bad realities to keep other realities good. What isn't cool about that? So, with that, here are all of the versions of my teams made with existing characters (each slider marks 1 team).
Notes
Favorite Character: Spider-Man
Other Favorite Characters: Too many to name!
*First Article: Sinister Six (Earth-616)
First Image: Photo of Overdrive with Big Wheel, use this link: Overdrive (Earth-616)/Gallery
First Gallery: Overdrive (Earth-616)/Gallery
First Blog Created: User blog:Uncanny X-Factor/Exiles anyone?. I may resume regularly posting new editions of this blog, so keep watching.
Favorite Teams: (in no particular order) eXiles, Weapon X, Young Avengers, X-Men, Fantastic Four, Avengers, Sinister Six
Favorite Universe: I love them all, but my top 5 are Earth-982, Earth-616, Earth-1610, Earth-928, and Earth-98193.
Current Projects
Taking care of unused images.

Trivia

X-Factor is aware that he lives in the comic books he loves.
X-Factor is a published artist and comic writer.
X-Factor is a total chocoholic.
X-Factor thinks Wolverine is not used enough in comics.
X-Factor is an administrator on Marvel Fanon. (There's your freebie!)
X-Factor is a member of his reality's X-Men in the future.
X-Factor has had up to 4 pets at one time.
X-Factor finds Deadpool completely cool.
One of X-Factor's favorite character twists is gender-switching.
X-Factor tested himself for mutant powers when he was 13.
3 of these are true. Which are they?
Links and References