(Five of the six covers for this event, the final cover wasn't revealed as it contained characters "integral but so shocking" to be showed yet)

This November a new Spider-Man event starts. Kicking off next Amazing Spider-Man #9, with a 5-paged prelude in the Guardians of the Galaxy Free Comic Book Day Special (by Dan Slott and Giuseppe Camuncoli), the Spider-Men from the multiverse team-up against the threat embodied in Morlun.
From Dan Slott and Oliver Coipel, Spider-Verse is a 5-issue storyline with numerous tie-ins. Spider-Verse will feature numerous versions of the beloved Spider-Man, from the past (like Symbiote Spider-Man or Bag-Man), alternate universes (like 2099 and Ultimate Comics--both Peter and Miles) and a few new ones created by Slott himself.
But the story won't happen exclusively in Earth-616, as Peter Parker will journey through different realities and other New Yorks, encountering different versions of his city and supporting characters like Aunt May and J.J. Jameson.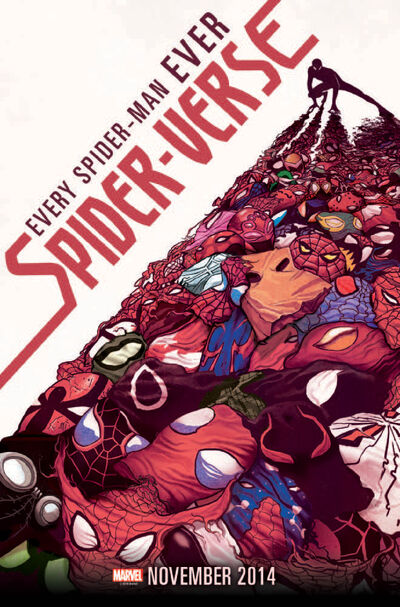 Source: Newsarama

PS: Do you think you can name all the Spider-Men in the picture?
---
---
Community content is available under
CC-BY-SA
unless otherwise noted.