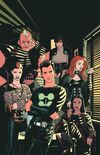 At this point you should know that Disney now officially has the film rights to Fantastic Four, X-Men, and Deadpool (yes, Deadpool was a separate rights issue beyond the X-Men - not a joke; actually, props to Fox for combining them but that's another story). ANYWAYS Disney literally just fully acquired them but they've already announced plans for the first FEW X-Men films! Starting out the list will be an interesting choice.. X-Factor! Presumably continuing off of the proposed Multiple Man script, this film will feature James Franco as Jamie Madrox still, with the rest of the cast/director/etc yet to be announced.
Next up is Alpha Flight and Deadpool 3. Deadpool 3 makes obvious sense as Deadpool continues to grow in popularity and Disney even already uses him in their marketing. The weird choice of these first few X-related films is of course Alpha Flight. However! Imagine if Wolverine is a member of such a team, and it makes a bit more sense. I wonder if this will be related to Deadpool too, as Alpha Flight was teased in Deadpool 2. What irks me is none of these are X-Men at all. BUT! I can be patient to see where this goes as I like this announcement.. although I'm still waiting on a Doctor Doom film..
Disney of course posted about this on their own site, and you can read all about it here.
--Johnnybravo44 22:26, April 1, 2019 (UTC)
---
---
Community content is available under
CC-BY-SA
unless otherwise noted.