I don't care if this is late or not. Here comes a double does of Uncanny X-Force reviews anyways.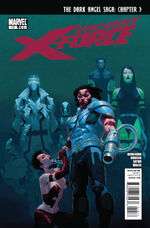 We're chapter #3 into the Dark Angel Saga, and things are just as cool as ever. Fantomex, Sunfire, Rogue and Gambit all find the life seed, but Gambit sacrifices himself in the process. Wolverine fights Wolverine, and Blob eats someone. So it isn't just the Ultimate Blob who eats people.. Wild Child loses an arm and Iceman takes off. So much is going on here, but I enjoy all of it.
The Age of Apocalypse universe is dying, and only Wolverine (AoA) feels he can save it, by becoming the next Apocalypse. All these other characters like Iron Ghost, Beta Red, Zombie Sentry, Captain Venom, and the rest are pretty cool too.
Fantomex's fake illusion powers are getting a little old, in my opinion. He does it like every issue now, and each time I almost fall for it. It's annoying. But that was really my only problem..
Psylocke was hardcore in this issue, and she amps it up next issue. Deadpool made the perfect timing joke of there being 'Wolverine on Wolverine action', and that was kinda funny.
I easily give this issue a 5 out of 5 stars. I love this X-Force team, even though I may miss Archangel. I loved the 'surprise' ending with all the Apocalypse villains too. But I'm a little sad to see them out of the AoA now. I definitely loved how Remender wrote this universe. He was great at creating new characters, and re-inventing old ones. I really enjoyed the atmosphere of this universe, knowing anything could happen to these other characters at any second-and it did. And it was cool. Shame they had to leave so early, though it appears they may be coming back, as AoA Blob and Iceman were shown on a later issue's cover..
Johnnybravo44 (talk) 18:30, September 8, 2011 (UTC)
P.S. - Wild Child lost his right arm, even though his left arm is drawn erroneously missing once or twice in this issue.
Community content is available under
CC-BY-SA
unless otherwise noted.