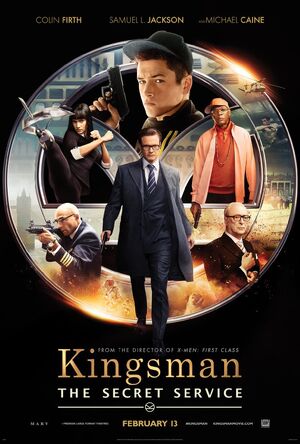 Update: The finished interview can be found here.
Aw, yes! Wikia has another amazing opportunity for comic book fans!
We are holding a community interview with Mark Millar and Dave Gibbons. They are here to discuss the film Kingsman: The Secret Service based on their 2012 comic book The Secret Service. We are asking people to submit questions, addressed to Millar or Gibbons or both. They are most interested in answering questions about The Secret Service, but other comic book questions are welcome also. Post your questions for Mark Millar and Dave Gibbons in the comment section!
In case you are not familiar with their names because you've been living under a rock, Mark Millar has been writing comics since the 1980's. He is widely known for his work with several publishers. At DC Comics he is known for writing The Authority and Superman: Red Son. His Marvel Comics work includes Civil War, Old Man Logan, and The Ultimates. His independent stories have included the wildly popular Kick-Ass, Nemesis, Superior, Supercrooks, and Wanted. Kingsman is the third time one of his works has been adapted to film, the first two being Wanted and Kick-Ass. You can also check out his current comics, Chrononauts, Jupiter's Legacy, and MPH.
Dave Gibbons is a legendary comic book creator who has been writing and illustrating since the 70's. He is perhaps most famous for his collaborations with Alan Moore, including Watchmen and For the Man Who Has Everything. His comic book writing includes the popular DC event Rann-Thanagar War and a fan-favorite run on Green Lantern Corps.
We cannot answer every question, but we will try to get to as many of them as we can. The deadline for submitting questions is June 3rd, and then Wikia staff will select the questions to be asked. The more people participate, the more Wikia can do cool things like this in the future! Submit your question today!
Kingsman: The Secret Service is now available on Digital HD. It will be released on Blu-ray this June 9th.
---
---
Community content is available under
CC-BY-SA
unless otherwise noted.