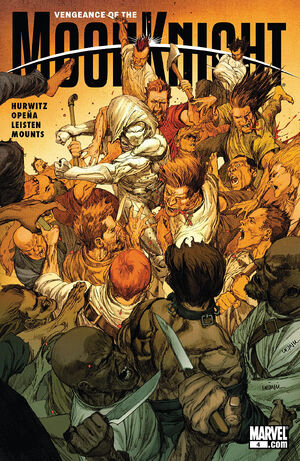 Textless
Previous Issue
Next Issue
There's an American expression I've come to like as well...let sleeping dogs lie.

-- Frenchie
Appearing in "Full Moon"
Featured Characters:
Supporting Characters:
Antagonists:
Other Characters:
Locations:
Items:
Vehicles:
Synopsis for "Full Moon"
Rob is getting ready to close the restaurant for the evening as Frenchie is nursing a bottle of alcohol. When Rob gives Frenchie a goodbye kiss and leaves him the keys to lock up, a group of white supremacist sees this from outside and try to rough Frenchie up. Knocked from his wheelchair outside in the alley, Frenchie stands up and grabs a plank to defend himself from the attackers.
Meanwhile, Marc returns home to Samuels pulling all of Marc's records from every database to keep himself distant from Profile – he moves the files in the same storage closet where a statue of Khonshu is held. News finally breaks of Scarecrow's attack and Marc quickly suits up. When he opens the hanger door, Frenchie is waiting outside with a cane; he's ready for action. The two gear up and take off. Back in Marc's closet, the Khonshu statue eyes glow.
Flying above the action, Marc sees that there is more inmates loose than anticipated. Marc makes Frenchie turn the plane around and fly low to sweep the inmates off of their feet. Once the first wave has been swept, Moon Knight jumps out and begins to face the inmates. After the first wave, MK tries to find Scarecrow but he is instead struck down by a large goon. Marc tries to call for additional support from Frenchie but he can't; crows have filled the sky. Moon Knight is alone.


Solicit Synopsis
Stare into the abyss too long, sometimes it stares back at you. Sometimes it reaches out and drowns you. Bushman is back and he's emptied Ravencroft Asylum, flooding the streets with a torrential wave of homicidal maniacs. As Moon Knight desperately races to be the hero he always strived to be, the question is, can he afford not to go a little crazy?

See Also
Links and References
Footnotes
---
---
Community content is available under
CC-BY-SA
unless otherwise noted.