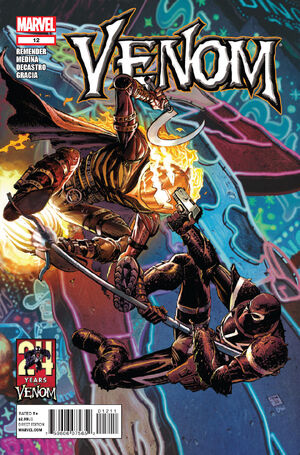 Textless
Venom Variant
Venom Variant Textless
Previous Issue
Next Issue
Trapped with no way out. The rage feeds my symbiote. The rage makes it strong. It chose me -- knows I need it -- knows my thoughts. Distorts perceptions. There is no controlling it. Gives me what I need to plow these bastards over. Pay them back for the way they've treated me. They have no idea the beast they've awoken... they will.

-- Venom
Appearing in "Road Trip: Part 3"
Featured Characters:
Antagonists:
The Devil's Den security

(First appearance)

Andre

(Only appearance)

[1]
Numerous unnamed others
Other Characters:
Races and Species:
Locations:
Items:
Vehicles:
Synopsis for "Road Trip: Part 3"
Posing as a drunk, Flash is able to infiltrate the Devil's Den casino, the location of the item he has to pick up. As he hunts down the item, he notices that the symbiote isn't happy about whatever it is. After entering an elevator, Flash loses control of the symbiote and is overtaken by Venom.
Security personnel realizes that someone has broken in and prepares to gun him down. Venom emerges from the elevator, and after making quick work of the security personnel, breaks into a laboratory and finds what he's looking for: the Toxin symbiote, which he claims is going to be competition for him in a future battle to be the only symbiote to inhabit the Earth.
As he fights it, Jack O'Lantern busts in and tries to stop him. While he is able to take Toxin and place it into a container, Venom becomes even more enraged and jumps out a window with Jack O'Lantern. As their fight continues, Venom gets bigger and bigger, even growing mouths on both sides of his face.
Jack O'Lantern attempts to run away and threatens to kill Flash's mother and Betty if he continues to fight him. His words soon reach him and he is able to get Venom under control and return to normal. As Jack O'Lantern flies away he advises him to get a drink.
Later, Flash calls Betty and breaks up with her, then after that, he drinks with a bum in an alley; meanwhile, Red Hulk stops at a gas station and asks for directions to Las Vegas.


Solicit Synopsis
- Pushed to his limits, Venom goes head to head with Jack O'Lantern! - The Arch-foes fight through Vegas brings them face-to-Face – with Toxin?! - Meanwhile, the Red Hulk closes in on public enemy number one – Venom!


Notes
This issue cover features a logo of "24 years of Venom," maybe parodying Spider-Man's "50 years of Spider-Man" logo.
See Also
Footnotes
↑

First and only known appearance to date besides flashbacks
---
---
Community content is available under
CC-BY-SA
unless otherwise noted.