History
Von Heiler was a Nazi spy in the German army during the second World War. A spy and saboteur, he was the leader of the most dangerous Nazi saboteurs in America.
In the December of 1944, Von Heiler commanded several attacks on civilians with the help of sweaters, that began to burn through rain. Examples included the attack on a factory, and an American troop transporter.
Unfortunalety, Von Heiler was confronted by the Sub-Mariner who came behind the secrets of the sweaters after he found the seller, and forced one of his men to tell the location of his hideout. During a short fight, Von Heiler was thrown at with his own weapon, a sweater, and burned, together with the rest of his men, to death.
Paraphernalia
Equipment
Fire-Sweater: He possessed sweaters that were treated with white metallic sodium, that began to burn if they would contact water. Ironically, he died due to his own weapon.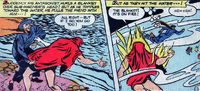 Links and References
Discover and Discuss
Footnotes
---
---
Community content is available under
CC-BY-SA
unless otherwise noted.