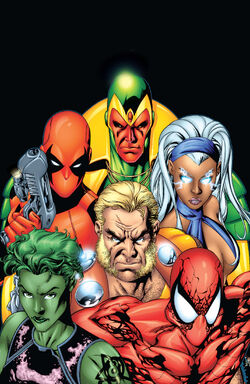 Identity and Affiliations
Enemies
Anyone who keeps them from going home including the Exiles and
Timebroker
.
Origin
Origin
A multiversal team similar to the Exiles but formed to take on more ruthless, bloody and destructive missions
Base of Operations
Mobile
Creators and Appearances
First Appearance
Last Appearance
History
This Weapon X team is a more ruthless version of the multiversal travelers and realities-fixers, the Exiles.
The founding members were; Kane, Deadpool, and Sabretooth.[1]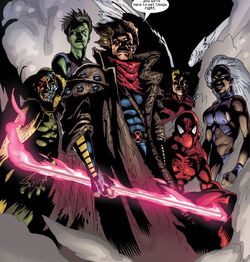 The team was eventually destroyed, when the Timebroker wanted to downsize both teams in hopes of killing off Hyperion.[13]
Paraphernalia
Equipment
Varied
Weapons
Each team members' arsenal.
Transportation
Teleportation through connection to the Tallus as well as individual members own means.
Notes
Unseen missions that Weapon X, were known to have completed are:[16]
See Also
Links and References
Footnotes
Like this? Let us know!
Community content is available under
CC-BY-SA
unless otherwise noted.