Line 53:
Line 53:
 

** [[River Swift]]

 

** [[River Swift]]

 

** [[Weeping God's Falls]]

 

** [[Weeping God's Falls]]

−

** [[Pool of Tears]]

+

** [[Pool of Tears]]

 

* [[Grithstane's Cavern Abode]]

 

* [[Grithstane's Cavern Abode]]

 

* [[Hard Land-Sea]]

 

* [[Hard Land-Sea]]

Line 78:
Line 78:
 

| Residents = [[Bigfins]], [[Dragons of Weirdworld|dragons]], [[Dwarves (Weirdworld)|dwarves]], [[Elves of Weirdworld|elves]], [[Glowfish|glowfish]], [[Gnomes (Weirdworld)|gnomes]], [[Goblins (Weirdworld)|goblins]], [[Gods (Weirdworld)|gods]], [[Man-Wolves|man-wolves]], [[Night-Fangers|night-fangers]], [[Homo sapiens|people]], [[Swamp Serpents|swamp serpents]], [[Wax Lackeys|wax lackeys]], [[Were-Men|were-men]], [[Zombies|zombies]], and many other races came to inhabit Weirdwolrd.{{r|Secret Wars: Official Guide to the Marvel Multiverse #1}}

 

| Residents = [[Bigfins]], [[Dragons of Weirdworld|dragons]], [[Dwarves (Weirdworld)|dwarves]], [[Elves of Weirdworld|elves]], [[Glowfish|glowfish]], [[Gnomes (Weirdworld)|gnomes]], [[Goblins (Weirdworld)|goblins]], [[Gods (Weirdworld)|gods]], [[Man-Wolves|man-wolves]], [[Night-Fangers|night-fangers]], [[Homo sapiens|people]], [[Swamp Serpents|swamp serpents]], [[Wax Lackeys|wax lackeys]], [[Were-Men|were-men]], [[Zombies|zombies]], and many other races came to inhabit Weirdwolrd.{{r|Secret Wars: Official Guide to the Marvel Multiverse #1}}

 
 
−

* [[Dark Riders (Weirdworld)|Dark Riders]]

+

* [[Dark Riders (Weirdworld)|Dark Riders]]

−

* [[Darklens (Weirdworld)|Darklens]]

+

* [[Darklens (Weirdworld)|Darklens]]

 

* [[Grithstane (Weirdworld)|Grithstane]] {{Deceased}}

 

* [[Grithstane (Weirdworld)|Grithstane]] {{Deceased}}

 

* Illianor

 

* Illianor

Line 92:
Line 92:
 

* [[Tyndall (Weirdworld)|Tyndall]]

 

* [[Tyndall (Weirdworld)|Tyndall]]

 

* [[Velanna (Weirdworld)|Velanna]]

 

* [[Velanna (Weirdworld)|Velanna]]

−

* [[White Wolf (Weirdworld)|White Wolf]]

+

* [[White Wolf (Weirdworld)|White Wolf]]

 

* Wulfbuck

 

* Wulfbuck

−

* [[Zarthon (Weirdworld)|Zarthon]]

+

* [[Zarthon (Weirdworld)|Zarthon]]

 
 
 

| Notes =

 

| Notes =
---
Revision as of 23:02, 26 March 2018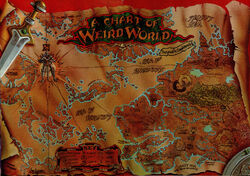 Location Details
Creators and Appearances
History
Weirdworld was a planet located within an unidentified dimension where the evenly-matched gods of light and darkness were embroiled in an everlasting game, which they played despite neither side having any hopes of actually winning, simply to avoid the boredom of immortality.
Weirdworld was forged eons ago from the cosmic debris created when the dark god, Darklens, rebelled against his own kind, but his uprising failed, and he was stripped of much of his power and exiled onto the planet as punishment for his insurrection.[1]
Much of the planet including Klarn later appeared as part of the floating island called Weirdworld.[2]
Points of Interest
Residents
Bigfins, dragons, dwarves, elves, glowfish, gnomes, goblins, gods, man-wolves, night-fangers, people, swamp serpents, wax lackeys, were-men, zombies, and many other races came to inhabit Weirdwolrd.[1]
See Also
Links and References
Footnotes
Like this? Let us know!
Community content is available under
CC-BY-SA
unless otherwise noted.