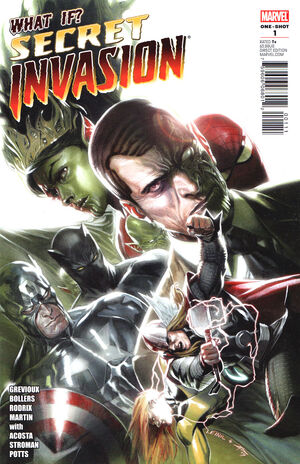 Textless
Previous Issue
Next Issue
Appearing in "What if the Skrulls succeeded in their Secret Invasion?"
Featured Characters:
Supporting Characters:
Antagonists:
Other Characters:
Races and Species:
Locations:
Items:
Vehicles:
Synopsis for "What if the Skrulls succeeded in their Secret Invasion?"
The Earth is celebrating their one year anniversary of the so-called Secret Invasion that brought humans and Skrulls to coexist. Even now, humans like May Parker are being converted into Skrulls. The only faction opposing this is the Avengers Alliance for Freedom, composed of unconverted heroes and former Skrull prisoners, who are considered terrorists by the rest of the world. The broadcast is interrupted, with a pirate footage from Captain America, declaring that Earth is really under occupation.
Queen Veranke can only lament how hard the Alliance is stubbornly fighting against all that her species has attempted to help the Earth. Her consort, Norman Osborn, advises her that it be best to crush the Alliance and invade Wakanda, where the rebels are undoubtedly hiding.
In Wakanda, Wolverine has brought one last sample of the modified Legacy virus meant to used against Skrulls. He is the only survivor of the X-Men, where all taken down by the Skrulls after the initial attack on San Francisco. Storm can only regret not being there to help. The scientific minds of the Alliance then attempt to modify the virus to reverse conversion and eliminate the Skrulls' ability to shapeshift at the molecular level.
Veranke goes before the United Nations to make a plea for an invasion of Wakanda. Osborn can only comment that her failed use of diplomacy is her failing, before he takes a call.
As soon as the virus was ready, the Skrull forces attack Wakanda. The Avengers leap into action to repel them. In the midst of the fighting, the cannon meant to release the vaccine is destroyed, so Thor uses his powers to spread across the globe. But instead of doing what was expected, every Skrull and converted humans perishes. The culprit is in fact Osborn, posing as Iron Man. He explains that this was all an elaborate ruse to get what he wants. Spider-Man helped him infiltrate Wakanda to help them but he didn't expect that Osborn would cross the line. Now, he can only lament what he has done. Osborn admits that he did create a cure for the virus, so that he could survive and get back at the Skrulls for using him. In rage, Cap beheads Osborn with his shield.
The Avengers surrender to the UN forces sent to arrest them. Meanwhile, far up on the Moon, Uatu can only lament how this alternate Earth turned out.


Appearing in "What if the Secret Invasion remained secret?"
Featured Characters:
Supporting Characters:
S.H.I.E.L.D.

(Appears on a computer screen, TV, or hologram only)
Antagonists:
Other Characters:
Races and Species:
Locations:
Items:
Vehicles:
Synopsis for "What if the Secret Invasion remained secret?"
Thunderbolts Director Norman Osborn is contemplating about what he would do if he was in charge of national security. Already, on this Earth, Captain America has been pardoned for his role in the Superhuman Civil War and shockingly shook hands with the Red Skull. Hours later, Osborn and the Thunderbolts are dispatched to investigate a situation in the Savage Land. They infiltrate a mysterious structure, discovering a vault full of duplicates of superhumans from outside. The Thunderbolts attempt to fight through, only for they all to be massacred and Osborn captured. He is brought before Veranke/Spider-Woman, who talked to him as if she knew him. She tells him a little story about how a priest stood up to her and told her that she would die by the hands of Osborn himself. Therefore, the Skrulls had to integrate themselves into human society and eventually fade away. She claims that the prophet became Osborn himself. Though Osborn tries to deny it, Veranke insists that he is and asks that he kiss her true face. Instead, commits suicide, reverting him to his Skrull form. In truth, apparently said prophet has been cloned and placed with Osborn's identity, at which the Skrulls attempted deprogramming.


Appearing in "Say What?! Secret Invasion"
Featured Characters:
Supporting Characters:
Antagonists:
Other Characters:
Races and Species:
Locations:
Items:
Skrull Operation (Board Game)

Natchios Nacho Chip
Treasure Chest
Belly Button
Mean Green Spleen
Vehicles:
Synopsis for "Say What?! Secret Invasion"
Synopsis not yet written.

Solicit Synopsis
We all know how Secret Invasion ended with the Skrulls defeated and the death of the Wasp and the Skrull Queen. But what if it happened another way? Get ready to check out two widely different tales exploring that question. In the first story, scribes Kevin Grevioux (NEW WARRIORS, Underworld movies) and Karl Bollers (EMMA FROST) ask more questions: What if Reed Richards was killed before escaping from the Skrulls? Would our heroes still have won the day? Or would Earth embrace the Skrull way of life? In other words, "WHAT IF THE SKRULLS WON?" Illustrations by hot newcomer Pow Rodrix (Justice League America) with digital paints by Jelena Kevic-Djurdjevic (TERROR INC.). The second story presents a twilight zone take on the question, "WHAT IF THE SECRET INVASION STAYED SECRET?" by newcomer Chris Acosta with art by Larry Stroman (X-FACTOR) and Carl Potts (Alien Legion). Plus a "SAY WHAT?" comedy strip by Mike Gallagher (Mad Magazine) and Dave Manak (Spy Vs. Spy).


Notes
Say What?! details several alternate realities, including:

"What If...Skrull Thing and Skrull Hulk got tired of fighting and formed a comedy team?"
"What If...J. Jonah Jameskrull ordered the same crossword puzzle to run every day in the daily bugle?"
"What If...Reed Richards Skrull developed severe allergies?"
"What If...Queen Veranke imposed her fashion sense on the entire Skrull population?"
"What If...the Secret Invasion led to a new medical disorder?"
"What If...the Skrull Ares reinvented himself as the god of warts?"
"What If...the Skrull allowed Norman Osborn to form his own group, but only as a traveling carnival?"
"What If...Jarvis the Skrull butler began a career as a blues Singer?"
"What If...Skrull Spidey wasn't sure about his arachnid powers?"
See Also
Links and References
Footnotes
---
---
Community content is available under
CC-BY-SA
unless otherwise noted.