Previous Issue
Next Issue
Appearing in "The Missing Link!"
Synopsis for "The Missing Link!"
Explorers on a remote island discover an ape-man of primitive appearance that they take for a possible evolutionary missing link. They bring the mute creature back with them for study by scientists in civilization, but the creature is listless. Finally, it demands to be taken back to the island, but says no more. The shocked scientists fear it can only survive on the island, and so do as directed, but once there, the creature heads towards a machine hidden behind some bushes that is revealed as a time machine. The startled scientists exclaim "Did this time machine bring you from the past?" "No", he replies, "From the future. I did not speak because we are not supposed to alter the past, but I must speak now. I am what humanity will become following an atomic war in a few centuries. You must change your ways." With that, the time machine flashes and disappears.


Appearing in "What Lurks Beneath?"
Featured Characters:
Supporting Characters:
Antagonists:
Other Characters:
Locations:
Items:
Vehicles:
Synopsis for "What Lurks Beneath?"
A diver tries to capture mermaids to sell them to zoos, but they capture him instead and place him in an exhibit.


Appearing in "The Terrible Fate of Mr. Wren!"
Synopsis for "The Terrible Fate of Mr. Wren!"
A scientist puts off marrying until he is wealthy because he wants to avoid the mistake of his parents always arguing since they were poor. He becomes wealthy by inventing a matter duplicator device. When the girl he wishes to marry steps in front of the device, there are now two of them, arguing over which one of them gets to marry him.


Appearing in "The Impossible Tunnel!"
Synopsis for "The Impossible Tunnel!"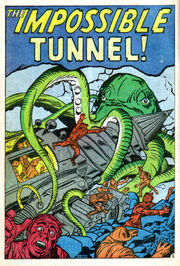 A man attempts to build a tunnel from America to Europe but finds a peaceful colony of people living beneath the ocean. Worried that this paradise will be corrupted by surface men, he turns off the electricity that was keeping a giant octopus away from the digging equipment. He tells his backers the project is too dangerous and recommends that no further attempts be made.

See Also
Footnotes
---
---
Community content is available under
CC-BY-SA
unless otherwise noted.