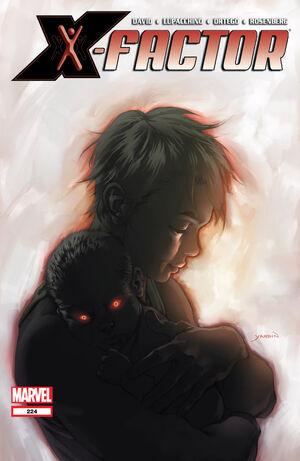 Textless
Previous Issue
Next Issue
Okay, well...in my defense...big hairy snarling monster leaping out at us. Nine times out of ten, throwing knives is the right call.

-- Longshot
Appearing in "Hard Labor"Edit
Featured Characters:
Supporting Characters:
Antagonists:
Other Characters:
Races and Species:
Locations:
Items:
Vehicles:
Events:
Synopsis for "Hard Labor"Edit
Synopsis not yet written.
Solicit Synopsis
"HARD LABOR" Conclusion! About to give birth and on the run from mutants, demons and gods alike, Wolfsbane turns to the only ones she feels she can trust: her own kind. But even with the help of THE PACK, will Wolfsbane and her baby survive the ordeal? And considering some believe the baby to be the harbinger of the end of the world, do we even want them to?

See Also
Footnotes
---
---
Reviews
I am usually a HUGE fan of PAD, and this issue had some great moments, but overall I feel like it was pretty anticlimactic.
This whole arc seemed a bit drawn out, which I wouldn't mind IF there had been more pay off in the end. Before Rahne gave birth we already knew the child could be evil (because of Darwin meeting Tier) and we already knew it would have crazy mysterious half-god powers, and in the last few issues we knew that a ton of demon/gods were after it. After the birth, we have no knew info. It seems like this isn't an end at all. It's obvious the child will come back, Feral's clearly not done either, Darwin still has to show up, etc. I enjoy the continuous storyline PAD writes, but I felt like I needed just a bit more closure here.

Also, I'm still unclear on what happened to Hela. Too much demon energy or something? Between Darwin stealing her powers, her easy defeat in Fear Itself/New Mutants, and this...Hela's not seeming as formidable as she probably should...

Lupacchino's art is beautiful though. Truly a great artist. I'd love for her to stay on the title longer. Additionally, Yardin's cover is gorgeous.

I thought Rahne immediately rejecting her child was very poignant. Like I mentioned, very much a reflection of her father (Rev. Craig). "That creature is no child o'mine." Isn't that almost a direct quote from her father? Very ironic and I think very intentional on PAD's part. It was obvious before that Rahne was diluting herself about the true nature of the baby. I think because Hrimhari was good and noble, Rahne wanted to believe his seed would be the same. I think is was a good realization moment.

It's sad that we can't see a little of X-Factor actually raising a baby. Sean Madrox disappeared in the same issue as his birth, and Baby Sinclair will probably show up next as an adolescent/adult because of his wolf/part god accelerated aging or because he was raised in an alternate future, etc. It would be fun to see the team taking turns changing diapers or bottle feeding or stroller walkers in the park.

Pip and Layla's convo was interesting and obviously laying seeds for something in the future. And WHAT!?, did Layla admit she didn't know something?

Very funny and well written Longshot dialogue. I love it when PAD can poke fun at comics and heroes within their own world.

I hope we get more of this story sooner rather than later. I'm afraid we might have to wait a couple of story arcs/a year or so before there's any real pay off.




Freyseagrove 16:32, August 18, 2011 (UTC)