The great Magneto, in chains. Yeah, I remember that, too. It was why I joined Apocalypse back in the day. Because the flatscans did that to you. What they called crimes-- well, that was what made you our voice. Made us want to follow you. What happened to that?
Appearing in "Lost Legions (Part 3)"
Featured Characters:
Supporting Characters:
Villains:
Other Characters:
Locations:
Items:
Vehicles:
Synopsis for "Lost Legions (Part 3)"
Synopsis not yet written.

Solicit Synopsis
AGE OF X AFTERMATH! Not only have the X-Men escaped from the Age of X, but so have some of the most dangerous monsters from Legion's psyche! Desperate to hunt them down, Legion and a small team of X-Men leave the safety of Utopia to find them. But it may not be long before they find themselves in over their heads...

See Also
Footnotes
↑

First and only known appearance to date besides flashbacks
---
---
Reviews
So this issue is actually from this week, X-Men: Legacy #252. There will be spoilers. The only reason I'm not reviewing X-Men: Schism #2 is because the people at my comic shop are dumb and forgot to reserve it for me, and sold out of it. So now I have to wait a week to read the issue. But anyways, here's this issue... Frankly, this issue was better than I expected, but still not the best. Good, not great; enjoyable, but not worth praising.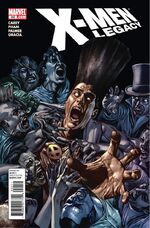 One thing I love about Mike Carey's writing is how good he is at always referencing character's pasts so well and so fitting with whatever else is going on. The little talk with Frenzy and Magneto was perfect, and Gambit's threats to Frenzy were great too. Nice to see Gambit has adopted a gun of sorts over here too, similar to his AoX one. Here's a thought: what if he charged bullets, then shot them out..? That'd be interesting to see.

This issue shows the Styx guy again, and apparently we finally know his powers. Basically is he touches you, you are under his control. So he has almost a hundred followers ready to kill themselves for him. And to trick Legion over to his side, he has Professor X. Good. I won't care too much if Professor X dies. But obviously he won't...

The other guy at the beginning (I believe his name was Bleeding Image) had a cool power. He hurts himself, feels nothing, but others around him do. A living voodoo doll, as he said. It was awesome to see himself stab himself and Rogue feel it. Wish that guy could have stuck around, his power was cool.

So overall (this is a short review) the issue was pretty good, but really could have been better. Rogue could have went with the others at the end. Legion could have not been so stupid. Bleeding Image could have survived. A bit more could have been explained about this Styx guy. So anyways I'd give this issue a 3 out of 5 stars. A lot more could have happened, but it just didn't. The issue wasn't bad, I'm just a little aggravated about some things in it. This storyline seems to rushed to get to the new one with Havok and Polaris. And that storyline I do await, so I guess it'll be worth it.

Johnnybravo44 (talk) 19:16, July 28, 2011 (UTC)
Community content is available under
CC-BY-SA
unless otherwise noted.