Identity and Affiliations
Origin
Creators and Appearances
History
The Young Avengers shares an identical history with Runaways until they escaped protective custody.[1]
At Griffith Observatory, the runaways were recruited by Iron Lad to become the Young Avengers. Unfortunately, unbeknownst to the team, Victor Mancha had kidnapped the real Iron Lad,[2] and began posing as him as part of Victorious' plan to kill the young heroes before they become a real threat.[2]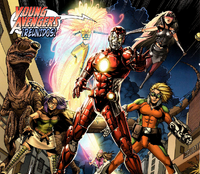 Victor's plans were eventually discovered by Arsenic and Old Lace.[3] The Young Avengers narrowly defeated Victor and heavily damaged The Hostel resulting in the deaths of both Victor and Iron Lad.[4][5][6]
After the deaths of Victor and Iron Lad, Arsenic took over the leadership of the Young Avengers.[6]
Paraphernalia
Equipment
Transportation
See Also
Links and References
Footnotes
Like this? Let us know!
Community content is available under
CC-BY-SA
unless otherwise noted.